White Cotton Crew - Sock Size L/XL - Shoe Size - 6 to 16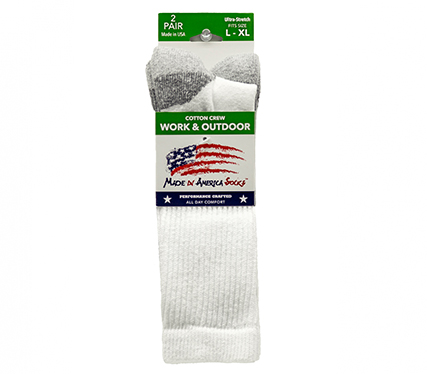 2 Pair Packs
Features
Premium cotton for soft, absorbent wear
Polyester-reinforced for improved stain release
Arch compression for support and stability helps reduce foot fatigue
Special spandex to accommodate extended sizes
Flat toe seam increases comfort and decreases friction
Zone cushioning in the heel and toe adds superior protection for high impact areas
84% Cotton, 10% Polyester, 4% Nylon, 2% Spandex
Care Instructions: Machine wash warm. Only non-chlorine bleach when needed. Tumble dry low. Do not iron.
Specs: Men's Sizes: 7.5 – 16 shoe size | Women's Sizes: 6 – 15 shoe sizes
Guarantee: At Made in America Socks, we offer a 100% satisfaction guarantee on the products that we manufacture. If a customer is not satisfied with long term performance of our socks, the laundered socks can be returned (with receipt) for replacement.
socks didn't last the year but that might have been my fault by not following washing instructions so I am going to try them again and we will see they were very comfortable
---
I ordered some of the diamond socks with the Merino wool last year and they are the best socks I've found for hunting. Great for almost any temps. Coming back to order some more socks for work. We'll see how they hold up in work boots
---
A welders Perspective
Anthony
I'm a welder and these socks are outstanding. They are the most comfortable, cushioned socks for people that work hard and are on they're feet all day. Thank you!
---
Best socks ever!
Bruce - Georgia
I have bought many different socks in my days and these Made in America Socks are by & far the best I've ever had. Comfort durability that doesn't wear out quickly. I love the fact the cotton is grown & socks are made in Alabama. If you have been searching for American made socks then stop searching you have found what you were looking for! Do like I did and go ahead and buy a pair of the diamond series wool socks - you'll be thinking - yep, it's $20 for one pair - but when you put them on it's like butter soft it's totally unlike any sock you've ever had on your feet before! I always try to find American made in whatever it is I'm looking for and I'm completely thrilled to know that there is a small group of people in Fort Payne Alabama who have banded together to make American made socks and in doing so helping to keep jobs & products made in America by Americans! Help keep it going & buy some socks & read their story!
---
These are the most comfortable sock I've ever put on my feet. They stay up well, they're super supportive, and launder well. My only concern is that they will be too thick for summer. Please make a thinner version! Five stars, from one picky Sock wearer. An extra five for being AMERICAN made!
---
Buying for my boyfriend
Katherine
You get a 5 star for being made in the USA! I can't wait till he tries them. ✌?❤️
---
These are very nice for work indoor and outdoor I wear them with USA made danner boots and feet are comfortable all day .
---