Black Cotton Crew - Sock Size L/XL - Shoe Size - 6 to 16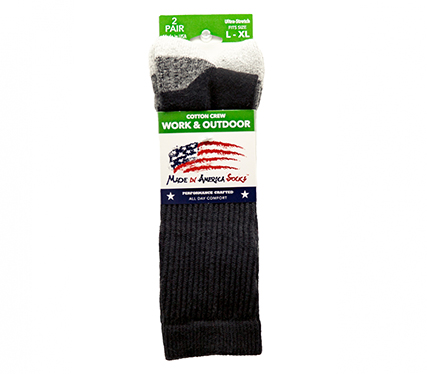 2 Pair Packs
Features
Premium cotton for soft, absorbent wear
Polyester-reinforced for improved stain release
Arch compression for support and stability helps reduce foot fatigue
Special spandex to accommodate extended sizes
Flat toe seam increases comfort and decreases friction
Zone cushioning in the heel and toe adds superior protection for high impact areas
84% Cotton, 10% Polyester, 4% Nylon, 2% Spandex
Care Instructions: Machine wash warm. Only non-chlorine bleach when needed. Tumble dry low. Do not iron.
Specs: Men's Sizes: 7.5 – 16 shoe size | Women's Sizes: 6 – 15 shoe sizes
Guarantee: At Made in America Socks, we offer a 100% satisfaction guarantee on the products that we manufacture. If a customer is not satisfied with long term performance of our socks, the laundered socks can be returned (with receipt) for replacement.
The best socks-eliminates smell
c. schenk
I bought numerous types of socks because I had constant perspiration, irritation, and smelly feet. It dawned on me that I was wearing made-made fibers. I began a search for made-in-the-USA and healthy natural fibers. I found them here with these socks. Not only are they extremely well made, but they are so comfortable, and now I NEVER have smelly feet or irritation.
---
Seeks USA Made with true fibers
Faye
I buy your socks and gift to many friends. I want young and old to discover that more is less (it's more expensive than big-box stores, but wash gently and dry in air or low tumble). USA made products have been slaughtered in the last decades by corporations seeking top profits to benefit corporation leaders. They don't do justice to the USA craftsmen and USA sources fibers. Yes, of course it will be more $ than a 6-pack socks at wallmart. But you won't get the cotton's thickness and quantity used in MadeInAmerica Socks material content.
---
Diamond series crew socks
W T Mulligan
I love these socks I got two pair for Christmas and loved them so much I got 4 more. Later the sport shop that I got the at had them on sale. Needless to say I got 6 more , these are really great socks
---